My journey with the Takatuf Scholars Programme started in 2013, when one of my teachers dropped by my classroom to briefly announce an opportunity for Omani students to study abroad. Intrigued by the prospect, I immediately applied for the programme and hoped for the best. Now, eight years and countless wonderful experiences later, I couldn't be happier or more thankful for that quick announcement.
After completing the Takatuf summer residential program and qualifying for the international scholarship, I travelled to the United States for the first time in 2014, where I attended a college preparatory high school for two years. Those years were fundamental in broadening my understanding of the world outside Oman, especially in terms of education. It was then that I determined that I wanted to pursue a college degree in political science, despite having previously been encouraged to pursue a more typical career choice (such as medicine, engineering, or law) throughout my life.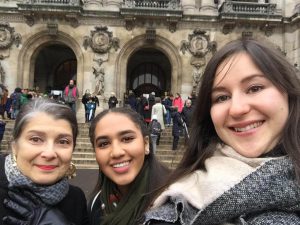 While in college, I enjoyed having the ability to immerse myself in my academics and beyond. I took classes in politics, international relations, business, and sociology, while also making use of the opportunities at my grasp. I decided to continue my love for learning languages by also completing another major in French. I studied abroad in London and Paris, signed up for student organizations, and ran for leadership roles, eventually becoming the senior class president.
Additionally, through my Takatuf network, I was introduced to enlightening professional experiences, such as attending a training program with international consulting firm McKinsey & Company. Likewise, during my time off every summer, I expanded my knowledge in my fields of study by doing internships at the Ministry of Foreign Affairs in Oman, the Middle East Institute in Washington, D.C., and more.As of late, I have been volunteering in Oman's national campaign against COVID-19 after having recently completed an internship at a communications and public affairs firm based in Washington, D.C. (while also attempting to learn Russian in the evenings!).
However, being abroad also brought with it many challenges that many other international students like me have had to overcome. While many of us are told that we might experience culture shock or a language barrier when we first move away from our home country, I experienced something that no one prepared me for: being in an environment where education was completely different. I went from being a person who did not have any difficulty passing exams due to years of practice in memorization, to a person who struggled to get adjusted to writing several essays in a week. While other students in the US were very used to conveying their thoughts through a written assessment, I found it hard to complete my work in the same time as everyone else, as I was still getting used to expressing my thoughts in English and producing long-form analyses following years of short-answer exams here in Oman. But, just like any other challenge, practice helped me improve, and I even ended up having no hesitation in choosing a major at university where most of my assessments were done through essays!
None of my aforementioned experiences would have been even remotely imaginable had I not made the choice to apply for the Takatuf Scholars Programme years ago. It has brought me lifelong friendships, unparalleled adventures, a world-class education as a foundation to my career, and a network of support and inspiration from some of the brightest minds in Oman. The Programme was an invaluable gift, and I will spend the rest of my life using it to give back to the future of Oman.